Magic Dongle
Details

Category: Super Magic 6
Published: Monday, 19 October 2020 02:06
Written by Administrator
Hits: 204
Super Magic 6 connects to the timer with a BLE connection.   Current Magic Timers do not have BLE connectivity. So, to program these timers you need a Magic Dongle.  This is a small, powered box that has a BLE radio and a Magic Timers serial connection.  To work with an existing Magic Timer you plug the Magic Dongle into the timer, turn of the power on both, scan for the Dongle or timer to connect t , then connect with Super Magic 6,  read and write the flight program on the timer, then disconnect from the Dongle.  The Dongle is a "Remove Before Flight" object.  One Dongle can be used to connect with many timers. There will be 2 version of the Dongle.  The one that is  available now looks like: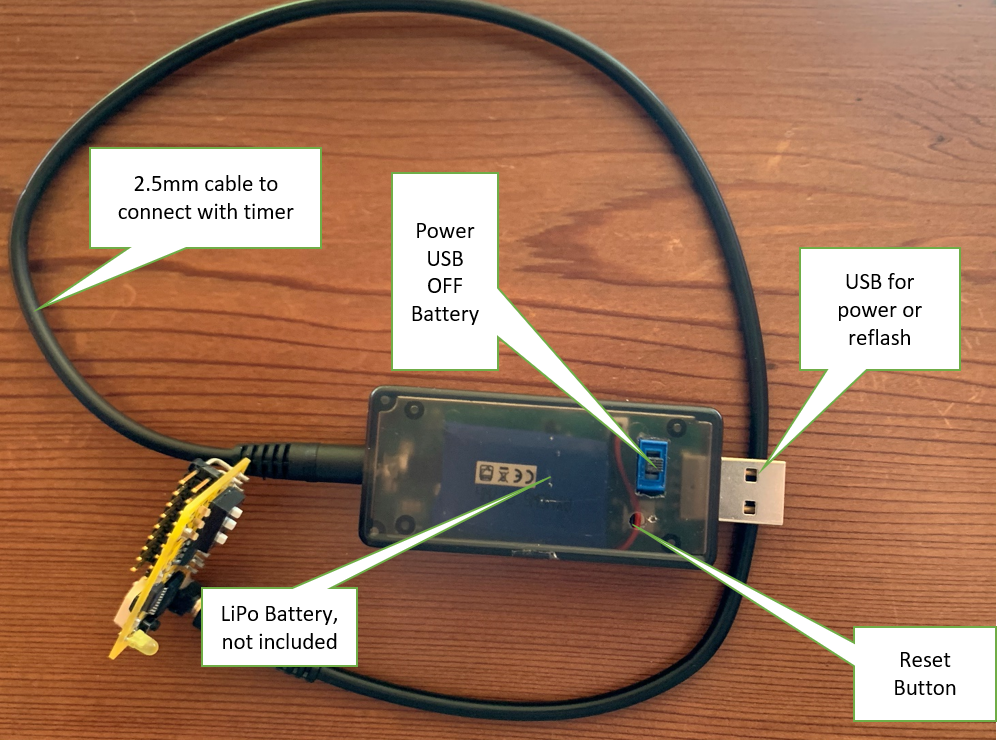 This version can be powered from a USB source or from a single cell LiPo.
 

Because of special requirements in shipping LiPos by air we do not include the LiPo.

 

One that fits is the Hyperion G5 50C Max 1S 180 mAh with Ultra Micro connector.

 

The part number is HP-G550-0180S1UM.

 

The connector is a Molex Pico Blade 1.25mm. It is shown in the picture.

 

It measures

 31 x 20 x 5.0mm

. The Dongle comes with a 2.5mm to 2.5mm cable.

 

If you a have a Magic Timer with a different connector you should request the appropriate cable.

 

You can also request a cable with the Pico Blade connector to use with your own LiPo battery and/or a charge cable for the internal battery that plugs into the side of the dongle.

 

The Dongle has status LEDS that indicate the state of the BLE connection and actions between the Android devices, Dongle and timer.

 

The Dongle has Magic Timers supplied firmware and any upgrade to this can be loaded by the customer using a USB connection with a PC.
The switch on the Dongle is 3 way between the internal battery – off – USB Power. There is a reset/special action button accessible through a hole in the top.
Some last words.
 

We produced the dongle to accommodate our existing customers, so to take advantage of Super Magic 6 on Android they would not have to replace their existing equipment.

 

The connection between the existing Magic Timers and the Palm Pilot used some very special features of the Palm hardware and to replicate this exactly

 

in the Dongle would have been prohibitively expensive and to change the firmware in the existing timers would have destroyed the whole objective of the exercise.

 

So a slight compromise was needed, this is invisible to you when working with Super Magic 6, the Magic Dongle and your existing timers.

 

We and a number of others have done extensive testing and it works well. There may be some cases where you encounter issues so you should report those but we have found that by resetting and restarting it will work OK.